Sarah Phillips
Talk

0
28pages on
this wiki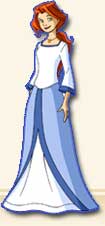 Sarah Phillips is The Main Protagonist Of Libertys Kids She is a a 14-year old journalist from England. At her first appearance, she is a firm loyalist who doesn't believe in James' idea that the King shouldn't be in charge. Sarah tries to write to her mother every day about her adventures in America with James and Henri.
Personality
Edit
Sarah is a very kind and sophisticated, but opinionated young lady, probably too much for her own good. When she first arrives in the colonies, she is loyal to the king. As time moves on, she grows to understand the colonists and their struggle for freedom. Her confusion on which side to chooses, stays with her. By the end of the series, she sides with the colonists.
Relationships
Edit
James Hiller: James was the first person Sarah met when she arrived in America. Sarah and James often argue about their different political views, James being a patriot and Sarah a loyalist. James' tendency to record events only from the colonists' point of view is the reason that Sarah became a journalist, writing from a British perspective for the Pensylvaina Gazette.
In the beginning, Sarah can not stand James, often criticizing his poor manners and grammar. However, over the course of the series, Sarah becomes a close friend to James, and perhaps even develops romantic feelings for him.
Henri: Sarah only wants what's best for Henri, and she cares for him in the manner of a mother or an older sister. Henri often goes to James for advice on childish things, but he knows that Sarah offers the responsible advice.
Moses: Sarah looks to Moses for guidance, and often thinks of him as a kind, responsible adult. She respects him for being a slave, then overcoming it.
Benjamin Franklin: Sarah looks up to Ben as a respectable man and appreciates him taking her in.
Images of Sarah Phillips
Edit